Tullahoma High School
Class Of 1982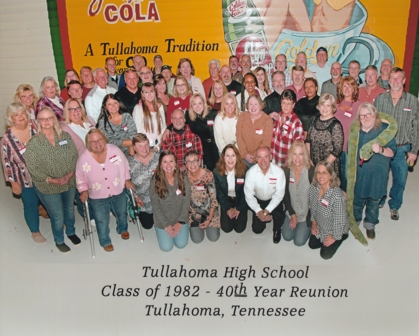 THS1982'S 40TH REUNION HAS COME AND GONE...
The THS Class of 1982 40th Reunion took place on Saturday, October 1st from 6:00 PM until midnight at the Sundrop Shoppe's outdoor patio in downtown Tullahoma--block of 217 NW Atlantic St, Tullahoma, TN 37388. We had a large turnout, listened to some good tunes and had some great food and beverages! Check out what was on the REUNION MENU!
Thanks to contributions from some of our classmates prior to the reunion, there was no admission charge to attend the reunion. Donations totaling $772 were collected the night of the reunion and will give us a great start towards funding our next reunion! Thanks to all of you who donated so generously.
The class officers would especially like to thank Carrie Galigher Newton & Donna Hunt Richardson, for all of your help in the planning and shopping for the reunion; Paige Prescott, for the use of the Sundrop Shop's outdoor patio; THS Principal Jason Quick, for his assistance and use of the Tullahoma Wildcats tents; Highland Baptist Church, for the use of tables and chairs; and also to Bobby & Sherrie Christenson Cates & Kevin Cox, who joined us for setup on the day of the reunion.
PRE-REUNION FRIDAY NIGHT LIGHTS & HOMECOMING FUN
Friday, September 30, was THS Homecoming. Our new, THS Class of 1982 Banner, was proudly displayed on the tent that THS had set up for the Class of 1982, outside of the stadium. Many classmates gathered and socialized before watching the homecoming parade down Olive Blvd. The band, football team, cheerleaders and homecoming court were all in the parade. There was food trucks, music, local radio interviews and games, all in a fun filled homecoming night environment! To top off the evening, the Wildcats defeated Hillwood 42 - 10!
OUR NEXT REUNION AND DONATIONS!
We're already talking about the possibility of having our next reunion sometime in 2024, when many of us will be turning, or will have already turned, YES!!! The BIG 60! Stay tuned to THS1982.com!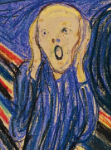 Donations are accepted both in the form of cash or personal checks (payable to THS1982 Reunion and with ZERO processing fee), and may be sent to the following address:
THS1982 Reunion
Mike Morrow, Treasurer
309 Heights Ave
Tullahoma, TN 37388
A Venmo account (@THS1982) has also been created to accept donations as well. Venmo your donation to our reunion account @THS1982 or donate through this website (top right of this page). Venmo is preferred e-payment, as this website (Class Creator), takes a larger transaction fee out of your donation amount. Note: you must have a Venmo account to use Venmo to make a payment.
Please consider making a donation. Lots of small donations have made a huge difference!
S T A Y I N T O U C H!!!
Help us to locate, reach out and contact all of our classmates. Continue to spread the word about upcoming class reunions and all of our forms of communications... word of mouth; this website (www.THS1982.com); Facebook (Tullahoma High School Class of 1982) & Twitter (@THS1982Alumni).
Send an email to THS1982alumni@gmail.com if you have any questions or change your address or any other contact information.
Sincerely,
Your THS 1982 Class Officers

Stan Welch | Patrick Prosser | Mike Bivins | Mike Morrow
Then...


Now, 40 Years Later...